Mario Kart 8 is the 8th installment on the Mario Kart Franchise. It was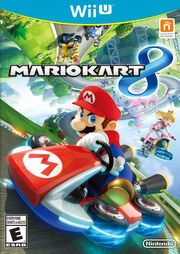 released in May 30, 2014.
Excitebike
Edit
An Excite Bike track was released as part of the first DLC pack released on November 13, 2014. The track is unique as it changes the layout every race, a reference to the stage builder from the first game.
This is one of the few tracks that have a special animation before the race begins. The animation being the bars being lowered in fron of the racers.
In it's first trailer all charachters are riding bikes, as a reference to the first game.
The japanese/european box art of the first game appears in some of the billboards.